School Supply Sale is Open!
Did you order your school supplies yet? Wickliffe PTO School Supply Sale is now open.  Purchase your School Supplies on-line, and they will be delivered to your child's classroom before school starts.
Please use the link below to purchase online.  It only takes a minute!
Go to our Store
We still need some volunteers, can you help?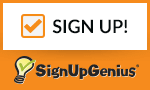 Multiple Days and Shifts:
2017-07-24